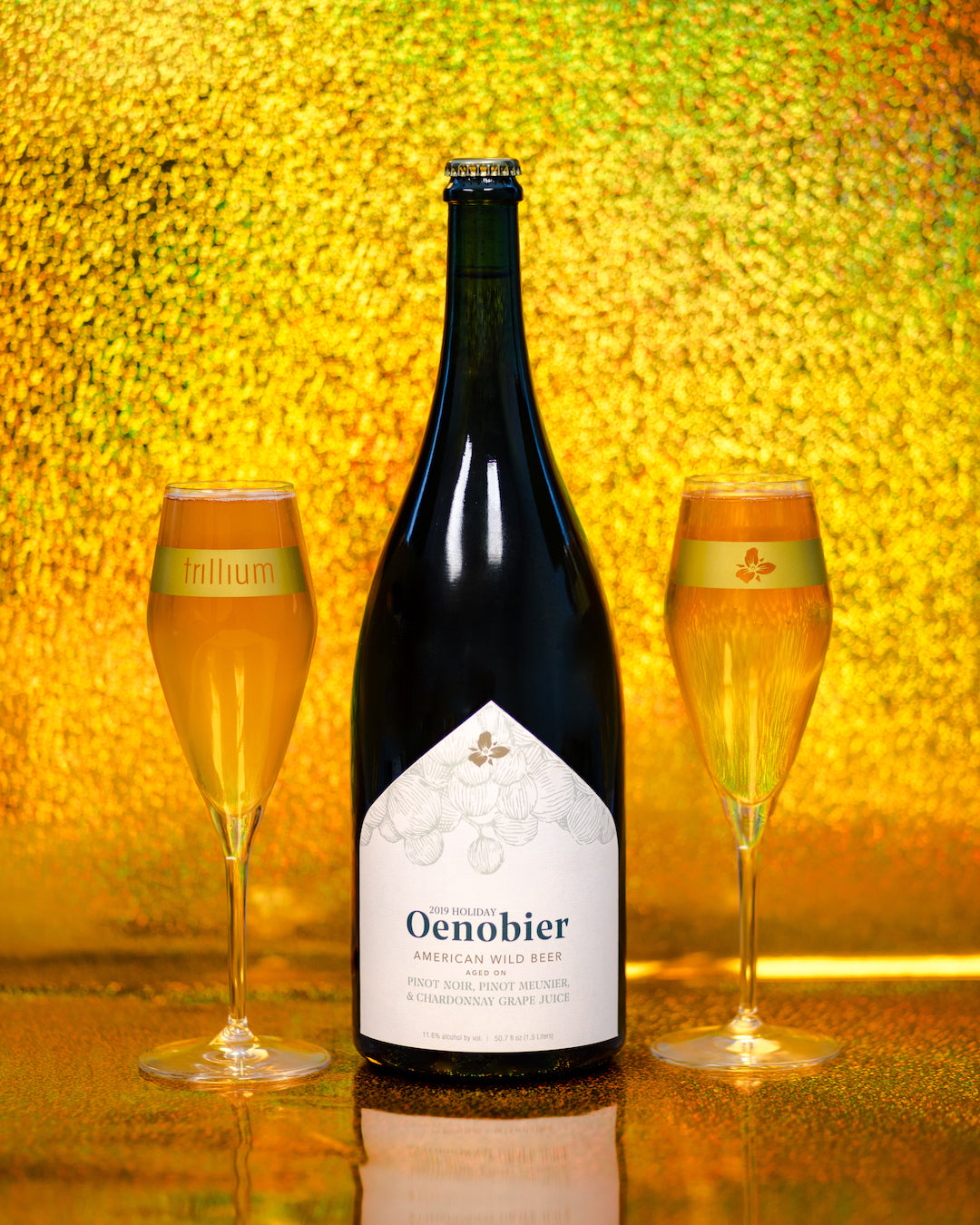 As we push further in our development of beer/wine hybrids, the Oenobier series focuses on different varieties of wine grapes while drawing inspiration from the body and drinking experience of classic wines and champagnes. This series is informed by our past work with beers like Stroka, Bug Valley, Terroir Project: Rkatsiteli and Oenobier's first iteration, which was created with our friends from Monkish.
Trillium was born out of the desire to share food, drink, and fleeting moments with close friends and family. As we enter the 2019 holiday season, we're excited to offer a Champagne-inspired addition to the Oenobier family, meant to enjoy during times of celebration. Brewed with a blend of Chardonnay, Pinot Noir, and Pinot Meunier grapes, three classic varietals used most frequently by France's traditional Champagne houses, Oenobier Holiday presents a brilliant straw-yellow color with lively carbonation rapidly rising towards a fluffy white head.
A swirl of the glass presents an array of vinous and floral aromas including rose petal, honeysuckle, and muscat grape. As the beer warms, our native yeast strain makes an appearance alongside secondary notes of lemon balm and sweet honey. Remarkably light-bodied, with champagne-like effervescence and well-integrated acidity, we hope that you enjoy this beer in celebration amongst good company.

STYLE: American Wild Ale
ABV: 11.6%
HOPS: Sterling
MALT: Pilsner, Dextrose
ADDITIONAL INGREDIENTS: Chardonnay Grape Juice, Pinot Noir Grape Juice, Pinot Meunier Grape Juice